Next product

MIMAKI CGFXII PLUS SERIES
World standard of multi cutting plotter
---
Specifications
CG-75FXII Plus
CG-130FXII Plus
CG-160FXII Plus
Dimensions
1,285mm(50.5") x 700mm(27.5") x 1,217mm(47.9")
1,825mm(71.8") x 700mm(27.5") x 1,217mm(47.9")
2,125mm(83.6") x 700mm(27.5") x 1,217mm(47.9")
Acceptable Sheet Width
90mm~1,040mm (3.54"~40.9")
90mm~1,580mm (3.54"~62.0")
90mm~1,880mm (3.54"~74")
Max. Cutting Speed
100cm/s (39.3"/s)
Interface
RS-232C, USB
Receiver buffer size
30MB Standard (20MB when in sorting)
Weight (with stand)
47kg (104 lb)
62kg (137 lb)
70kg (154 lb)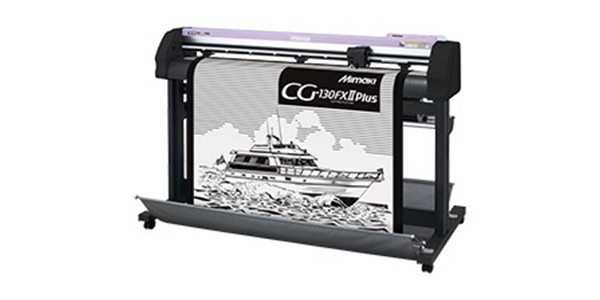 ---
NEW: ID Cut Function – for efficient printing and cutting.
A new function "ID Cut function" that enables continuous cutting operation to be performed automatically is adopted.
The "ID Cut function" is the function that automatically scans printed-out register marks with ID, then reads and cuts cut data. While any operators scanned register marks and specified cut data for each cutting job in the past, use of the "ID Cut" function is now made possible to perform unmanned and continuous cutting operations, and operators can proceed with another operation simultaneously when the machine is performing the cutting operation.
Main features
High speed continuous crop mark detection
By continuously detecting a maximum of 4 points, nested images in both X axis and Y axis can be cut aligning each image automatically.
Accurate media feeding ensures precise contour cutting over longer-length prints
Necessary media length is fed in advance to reduce tension during cutting. This function increases the precision of long-length print media cutting.
'Half Cut' mechanism, a proprietary technology of Mimaki
With the original half cut function, the backing sheet can be cut leaving a little bit of half cut connecting points,which can be easily detached when necessary.Various media without backing sheets can be also cut.
Other functions:
Selectable clamp pressure with high and low setting ensures accurate cutting of various media.

Selectable three jog speeds ensure proper and easy positioning of the head to the point.

Over-cut function makes the starting and ending points overlapped, which eliminates uncut portion of the media.

Media can be loaded from back or front.

Up to 6 roll media can be set at a time (1 set standard).

Plug-in cutting software for CorelDRAW and Illustrator is included.

A special adaptor to use commercially available pens and USB interface are included

Request a Callback

Play product video
Mimaki's range of cutting plotters includes roll models from 60 cm wide desktop models up to 160 cm wide professional production models

---
Suggestions
You may also be interested in the following products: