MIMAKI JV300 PLUS SERIES
Outstanding Speed, Stunning Beauty
---
Technical Specifications
JV300-130 Plus
JV300-160 Plus
Max. Print width
1,361mm
1,610mm
Max. Media width
1,371mm
1,620mm
Ink Type
SS21: 440ml cartridge/ 600ml cartridge/ 2L Ink pack (White is 220ml only)
Media Thickness
1.0mm or less
Roll weight
45kg or less
Dimensions (WxDxH)
2,525mm×700mm×1,392mm (99"×28"×55")
2,775mm×700mm×1,392mm (109"×28"×55")
Weight (max)
170kg (375 lb)
200kg (441 lb)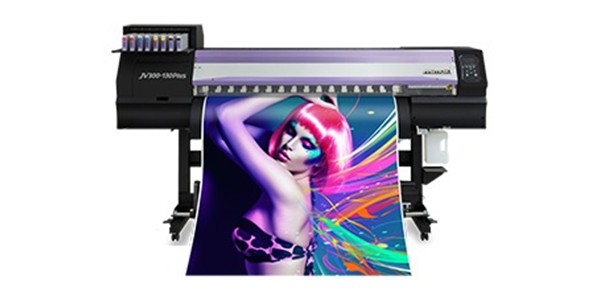 ---
Three "Plus" features
1. ECO feature - Adoption of environmental-friendly ink cartridge
Changing the ink cartridge of SS21 ink to 600ml "Eco-cartridge" from 440ml cartridge can decrease the frequency of replacing ink.
Increase in ink amount reduces time and effort to replace an ink cartridge with a new one, bringing about more efficient and economical results.
The "Mimaki Eco-cartridge" is a reusable environmental-friendly designed ink cartridge which customers can replace a 600ml ink pack by themselves.
The inks hardly generate VOCs (*) and are environmentally friendly. They also adopt the environmental-friendly cartridge system that can decrease usage quantity of plastic materials, as our approach to less environmental impact.
* VOC (Volatile Organic Compounds)
2. Labour- saving process and greater efficiency
A new function "ID Cut function" that enables continuous cutting operation to be performed automatically is adopted.
The "ID Cut function" is the function that automatically scans printed-out register marks with ID, then reads and cuts cut data. While any operators scanned register marks and specified cut data for each cutting job in the past, use of the "ID Cut" function is now made possible to perform unmanned and continuous cutting operations, and operators can proceed with another operation simultaneously when the machine is performing the cutting operation. The JV300 Plus can use ID cut function in combination with optionally available CG-FXII Plus.
Furthermore, regarding the conventional connection method to PC for RIP, Ethernet connection has newly been added.
Unlike the conventional USB connection, connection via Ethernet can be established via network cable, and thus connection to a printer from any PC within network is now available.
More free and efficient work environment can be put in place, by editing data using any PC in your office, then sending print data directly to a printer in your work operation room, for example.
3. Newly added functions to realise higher image quality and stability.
MAPS4 (Mimaki Advanced Pass System 4) reduces banding and uneven colour printing with blurred boundaries similar to gradation printing.
Banding and uneven colour printing are reduced by scattering swath boundaries.
Through renewal of the older winding mechanism, stability of media conveyance has been improved, and thus the maximum loadable media weight has changed from 40kg to 45kg.
Also, it is provided with such a function as standard that prevents edge-surface meandering when any media are wound up, realizing stable and high-quality winding.
Mimaki's original technology "3-way intelligent heater": When the temperature of the media is not optimized, the perfect shape and size of droplets are not appropriately adhered onto the media.
While temperature is controlled with Mimaki's original technology, heat is applied to media, and ink droplets are fixed in position with excellent colour development and high-quality image being maintained. It achieves both stable colour development and easy handling after output.
Orange and Light Black Inks ensure faithful colour representation
By using the SS21 orange ink as a process colour, 94.8% of the PANTONE colour chart is covered with approximate colours. Thanks to a wider gamut with the orange ink, food freshness can be simulated, and corporate colours can be faithfully represented.
SS21 light black ink and superior gray-balance control produce accurate grayscale printing without unexpected color shifts. Smooth and non-grainy skin tones and grayscale gradation are delivered.

Request a Callback

Download Datasheet

Ink for this machine

Media for this machine

Play product video
Mimaki is a leading manufacturer of wide-format inkjet printers and cutting machines for the sign/graphics, textile/apparel and industrial markets.

---
Suggestions
You may also be interested in the following products: