Training
printMAX Installation & Training
---
At printMAX our core ethos is "exceeding expectations", this starts the moment you first speak to us and doesn't end after the sale. Our installation and training services are a key feature in differentiating ourselves from the rest of the market.
Installation
---
Prior to installation, our logistics team will always do their very best to work around your commitments, for those of you already with printers we know your time is hugely valuable so we will work to best suit your needs.

On arrival our engineers are always friendly and professional with plenty of time to give you and your printer the time and attention required. Installs vary from 1-2 days depending on your requirements but we never like to rush a job.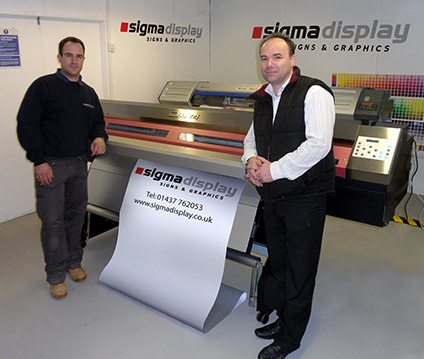 Training
---
A defining feature of our service is the training we provide. Our engineers are not only qualified with Roland and Mimaki but first and foremost are printers.
Having worked in print rooms, with the Roland and Mimaki technology, they not only offer the technical knowledge and expertise but will also help you get the most from your large format printer in a practical sense, providing advice on how best to get the required result.
Following your training, your engineer is only a phone call away. If this is your first printer there's a chance you might have a question or two after the engineer leaves, we'll be at the other end of the phone should this happen and only too happy to help.
Regarding warranty we are also your first port of call should anything go wrong, therefore if it's an easy fix you won't have to wait for a response!

Don't just take our word for it, check our testimonials for reviews of our service and installation.
Testimonials
---
"We had excellent support from printMAX's technical consultant, Simon. There were no issues with set-up and installation and Simon provided really clear training and advice. Thank you!". NICK ROWNTREE | PRINTELLE LIMITED
"Just want to say a huge public thanks to printMAX for all their help & support over the last 9 years! You guys are amazing especially with the support for my graphic design business!" CLARE BENNETT | FREELANCE GRAPHIC DESIGNER
"printMAX, following my install of the Roland Versacamm SP-540i, I just wanted to let you know, your technical engineer, Simon, did a great job on our installation and training. The printer was a lot heavier than I'd anticipated, but he really went out of his way to get the printer to its location. Everything is now working well and I'd like to thank you all for your help". JULIE MATTHEWS | GUARDIAN GLAZING
"We've just had our XR-640 installed and it's awesome! The only disappointment is that I won't get to use it that often as my guys here do 99% of the printing. It's a great upgrade from my SP-540i so am very pleased. A big thank you to Chris and Simon at printMAX for a great deal, service and help, would recommend them for your machinery purposes any day of the week. Top company!" WARREN BEARD | MINT SIGNS
"My thanks go to printMAX for the smooth and easy transition on the purchase of our new large format printer and laminator. I must say that the whole transaction was a lot smoother than I could have ever imagined. I would like to also commend Simon's teaching methods. Over the two days that Simon was here installing and training on the printer, he taught us in a way that was both engaging and thorough. We were able to begin turning out jobs the moment he left with no hesitation whatsoever.

It was a pleasure to work with Simon on the install, not only is he a very likeable person but made simple work of what I would have thought to be a tough couple of days. I am so pleased that I chose to stay with printMAX having been tempted by other suppliers." MARK RICHARDS | PRIME SIGNS
"Very helpful training and excellent knowledge of the Roland XR-640! Thank you to all at printMAX." SIGN POST SIGNS LTD
"The installation and training was really informative and Simon was incredibly helpful throughout the day." NATIVE PROMOTIONS
"printMAX offered fantastic support and guidance throughout the whole process, making everything so simple to understand!" A1 ENGINEERING WISBECH
"The training and support we received from printMAX was first class. Simon was really patient with us over the two days whilst he installed and trained on our Roland LEJ-640." POSITIVE IMAGES UK