Next product

MIMAKI SWJ-320EA
Print quality, efficiency and cost effectiveness
---
| Technical Specifications | SWJ-320EA |
| --- | --- |
| Head | On-demand Piezo head (4 printheads with 2 staggered configuration) |
| Maximum width | Up to 3,200mm (126") |
| Print resolution | 300 / 600 / 900 / 900×1,200dpi |
| Ink Kind | CS100 solvent ink (C, M, Y, K) |
| Ink supply system | 3L / each colour |
| Media Width | Up to 3,250mm (128") |
| Media Weight | Feeding: up to 100kg (220lbs) / Take-up: up to 40kg (88.2lbs) |
| Media feeding / Take-up device | Equipped |
| Interface | USB 2.0, Ethernet |
| Power specification | AC200 – 240 ± 10%, 50/60Hz ± 1Hz, 15A or less |
| Weight | Less than 850kg (1,873.9lbs)) |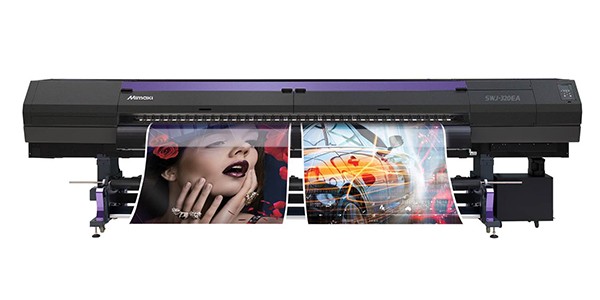 ---
Main Features
A successor to the legendary SWJ-320S4, the Mimaki SWJ-320EA is a revolutionary 3.2 metre-wide solvent printer complete with new generation high-speed print heads arranged in stagger mode, making it possible to print large format images for almost any exterior or interior purpose. Its functionality is further expanded by Mimaki Core Technologies, including MAPS4 and NRS, offering a unique ratio of affordable price, high quality and reliability.

Print quality, efficiency and cost effectiveness

Variable dot delivers smooth gradation for high resolution image quality
To reduce a grainy appearance, the 3 most optimum drop sizes (7pl minimum) are automatically selected, depending on the print mode. Grainy appearance is also reduced by using the 900x1200dpi high resolution print mode available for high quality printing
Twin-roll printing as optional
Double your production volume per day with twin-roll printing function, use up to 2 rolls, maximum width of 1,524mm each (should have the same thickness). Alternatively, media with different widths can be used. Handle different jobs at the same time: different data can be assigned to each roll of media.
Print speed
High speed production at the speed of max. 137sqm/h for distance viewing and 35 sqm/h (600×600 dpi) for short range viewing.
Ink supply and configuration
High productivity, low ink consumption, and excellent cost performance
Uses eco-solvent CS100, 2L supplied ink (CMYK), which remains weather resistant after three years. More affordable than conventional ink cartridges, it has exceptional stability and low propensity to clog nozzles.
Newly-developed ink tank contains max. of 3L ink per colour which can be filled at once for longer production runs with less interaction
Print head configuration
4 print heads arranged in staggered mode for dynamic production
1280 nozzles (320 nozzles × 4 lines) per head
4 heads with total 5,120 nozzles
Optimised media feeding for uninterrupted printing
Heavy duty media feed system enhances operation efficiency
Head carriage equipped with two media jam sensors to detect wrinkled or draped media surface, preventing damage to print heads, a head strike or media jam
Pinch rollers with high-accuracy and high-grip ensure stable media feeding and reduces uneven colour printing due to misalignment and banding
Newly designed tension bar and take-up system for stable media feeding
Constant tension on media even after the media roll diameter changes guarantees high-definition printing.

Mimaki Advanced Pass System (MAPS 4)
Reduction of banding, even at higher speed
Disperses ink drops overlapping the passes, preventing uneven ink drying and bi-directional stripes
MAPS4 works in the higher pass modes of each resolution, delivering stable high quality printing
Print operator is able to use parameters for optimal speed / quality
Nozzle Recovery System (NRS)
Mimaki's NRS enables replacement of clogged nozzles with open available nozzles, reducing printer interruption, production loss and poor image quality
When the print operator detects a clogged nozzle, the missing nozzle can be replaced automatically or manually
Makes printing possible even if nozzles are missing
This NRS feature increases uptime and postpones service intervention
Rasterlink6 Plus for intuitive operation
Rasterlink6 Plus is Mimaki's own RIP (Raster Image Processor) software
16-bit rendering for smooth gradation
Accurate ink consumption calculation
Twin roll printing layout
Choice of multiple profiles in one job for testing new media
All information on one screen: the status of the printer, print job and progress of the ripping can be checked at a glance
Nesting or composition of job are displayed visually
Up to 30 settings can be registered and frequently used settings set as "favourites"
Industry standard PANTONE colour libraries are included for the most accurate colour reproduction
Spot colour control: create and manage custom spot colour libraries
Colour replacement: replace colours with custom values, or use values from a spectrophotometer after measuring the desired colour
Estimated completion time display
Enhanced layout function
Print status display

Request a Callback

Download Datasheet

Play product video
Mimaki is a leading manufacturer of wide-format inkjet printers and cutting machines for the sign/graphics, textile/apparel and industrial markets.

---
Suggestions
You may also be interested in the following products: