Previous product
Next product

MIMAKI UCJV300 SERIES
Leading the Future of Sign Graphics through UV Innovation
---
| Technical Specifications | UCJV300-75 | UCJV300-107 | UCJV300-130 | UCJV300-160 |
| --- | --- | --- | --- | --- |
| Max. Printi and Cut width | 800 mm | 1,090 mm | 1,361 mm | 1,610 mm |
| Production Speed | TBC | TBC | TBC | 4 Colour 15m2/hr |
| Top Speed | TBC | TBC | TBC | 4 Cololur 25m2/hr |
| Best Quality Speed | TBC | TBC | TBC | 4 Colour 4m2/hr |
| Machine Dimentions (w x d x h) | TBC | TBC | TBC | 2,900mm x 776mm x 1,475mm |
| Ink Type | Lus 170 UV LED Ink | Lus 170 UV LED Ink | Lus 170 UV LED Ink | Lus 170 UV LED Ink |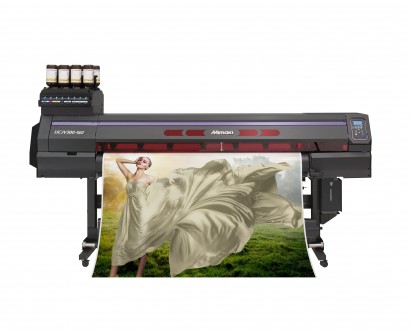 ---
Quick access to next processing and sign applying due to UV ink property
Ultra-low running costs
On-demand print utilizing UV characteristics
With the UV ink property of immediate curing upon UV light irradiation, no drying time is required.
Wider application range with UV print
Newly developed environmentally friendly UV ink, [LUS-170]
Productive cutting functions. A new function of [ID Cut] will improve the work efficiency
Upgraded RIP software, [RasterLink6Plus]
Maximum print/cut width: 1,610 mm (63.4")
4 Colour (C, M, Y, K) or 7 Colour ( C, M, Y, K, Lc, Lm, W)
Utilises Mimaki Core Technology for high image quality and stable production
The UCJV300-160 is a versatile inkjet printer having a combined function of both printing and cutting mounted with UV-curable ink.
UCJV300-160 is a high spec model equipped with the 4 layers print function in addition to UV LED print and Print&Cut.
This new model is enough to cover wider ranges from a quick job with short delivery time to an avant-garde signboard.
The New UCJV Series' uses state-of-the-art technology. With the new LED UV printing technology, it is possible to print onto an array of unparalleled materials, such as banner, self-adhesive PVC, transparent PET film, paper, backlit media, polyester fabrics and many more.
The Mimaki UCJV Series has the lowest running ink costs per m2 in its division, because of its innovative application of the latest LED UV ink technology and its economical ink usage. The printer's ability to output to a vast range of media, including low cost products combine this with a highly competitive ink price means running costs are kept low and profits high.

Request a Callback

Download Datasheet

Ink for this machine

Media for this machine

Play product video
Mimaki's range of UV inkjet printers provides unrivalled quality and versatility, opening up unlimited business opportunities for you.

---
Suggestions
You may also be interested in the following products: