Previous product
Next product

MIMAKI CF2 SERIES
For printing and cutting of lightweight sign boards

---
| Technical Specifications | CF2-0912 | CF2-1218 |
| --- | --- | --- |
| Maximum plotting speed | 50 cm (19.7") /s | |
| Maximum acceleration | 0.5G | |
| Interface | RS-232C | |
| Receiver buffer size | 1MB | |
| Dimensions (w x d x h) | 1760 x 1600 x 1100 mm | 2360 x 1900 x 1100 mm |
| Weight (max.) | 140 kg (308 lbs) | 180 kg (397 lbs) |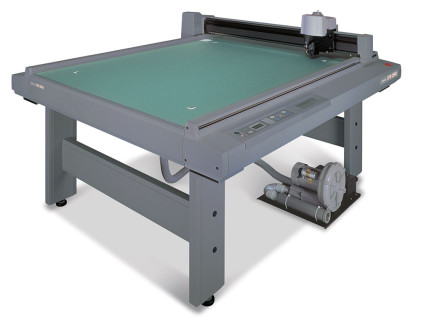 ---
Range of sizes up to 1.2m x 1.8m and head types for cutting a huge selection of substrates

Vacuum bed

Optical eye for print & cut registration
Broad range of applications
Offset start and end points
Tangential and reciprocal heads
Pressure compensation
Use for prototyping and short run production
Ideal print and cut solution with UJV-160 UV LED Curing inkjet printer
Half-Cut; by adjusting the depth of cutter blade, you diecut composite and laminated material

---

TD & RC Head

The two available heads for CF2 series (TD and RC) can be equipped with different kinds of blades depending on the media to be cut. Any suitable blade available on the market can be mounted./p>

Tangential Head

The tangential cutter steers the blades as it cuts. The motor controlled blade lifts and turns to start every cut at the exact angle. Both die cutting and half-cutting are possible. The tangential cutter enables cutting materials up to 1 cm thickness. Various materials, ranging from soft to rigid, can be cut.

Reciprocal Cutter

A reciprocal cutter is a cutting system that is characterised by up-and-down movements of the cutter blade (7000 times per minute) in addition to tangential cutting. The reciprocal cutter is especially suitable to cut corrugated board, cardboard and foam materials up to 2 cm thickness.

Ideal print & Cut solution with the Mimaki UJV-160

For printing and cutting of lightweight sign boards and retail POS, the UJV-160 and CF2 Series is an ideal print and cut solution, especially in terms of cost-performance relation, since the CF2 Series is a reliable high quality flatbed cutter that comes at a very competitive price.

Request a Callback

Download Datasheet

Media for this machine

Play product video
Mimaki's range of cutting plotters includes roll models from 60 cm wide desktop models up to 160 cm wide professional production models

---