Previous product
Next product

MIMAKI UJF-3042MKII EX FLATBED PRINTER
Creating more Value

---
Technical Specifications
UJF-3042Mkll EX
Print head
On-demand Piezo printhead (4printheads arranged in a staggered line)
Print resolution
Maximum: 1200 x 1200 dpi
Ink kind

LH-100 (C, M, Y, K, Lc, Lm, W, Cl)
LUS-120 (C, M, Y, K, Lc, Lm, W, Cl)

LUS-150 (C, M, Y, K, W)

PR-200 (Primer)

Max print size
Width: 300 mm, Length: 420 mm
Interface
USB 2.0
RIP software
RasterLink6 (Bundled)
Dimensions (w x d x h)
1,355 mm × 1,290 mm × 856 mm

Weight (max.)
135 kg (297.6 lb)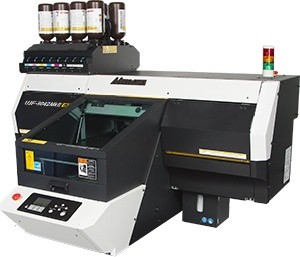 ---
The UJF-3042MkII EX is the latest addition to the UJF Family, with all the benefits and technology of the bigger models in a compact bed size. The UJF-3042MkII EX advanced flatbed is a UV-curable inkjet printer that creates high-value-added direct to substrate printing, achieve superior productivity and print quality, and have a greater ability to accommodate a wide range of applications.
"UJF-3042MkII EX" is the EXTRA model of " UJF-3042MkII", of which high productivity, excellent machine performance and beauty of print are reserved to upgrade the configuration from the 3 print heads to 4.
The 4 print heads configuration within the machine enables an additional attachment of white, clear and primer ink with the process color (CMYK).
UJF-3042MkII EX enables an additional attachment of white, clear and primer ink with the full color (CMYK).
White ink making more effective expression of full color print
Clear/Gloss ink print to represent the texture and to enhance design
The optional items of UJF-3042MkII will be equipped with UJF-3042MkII EX as the standard accessories!
- The [Status Indication Lamp] for check of printer status
- The [Vacuum table] to fix a print substrate on the table
- The [Emergency switch] to stop the machine operation in an emergency
- The [NCU (Nozzle Check Unit)] of auto-detecting nozzle-clogging

Request a Callback

Download Datasheet

Ink for this machine
Mimaki's range of UV inkjet printers provides unrivalled quality and versatility, opening up unlimited business opportunities for you.

---
Suggestions
You may also be interested in the following products: