Previous product
Next product

MIMAKI UJF-3042 MKII FLATBED PRINTER
The Power to Create...
---
Technical Specifications
UJF-3042Mkll
Print head
On-demand Piezo head
Print resolution

Maximum: 1200 x 1200 dpi

Ink kind

LH-100 (C, M, Y, K, W, Cl)
LUS-120 (C, M, Y, K, W, Cl)
PR-200 (Primer)

Max print size
Width: 300 mm, Length: 420 mm
Media weight
Up to 5 kg
Interface
USB 2.0
Dimensions (w x d x h)

1,355 mm × 1,290 mm × 856 mm



Weight (max.)

135 kg (297.6 lb)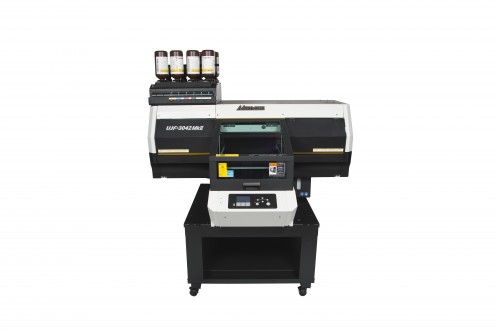 ---
UJF-3042Mkll is advanced flatbed UV-curable inkjet printer that create high-value-added product, achieve superior productivity and print quality, and have a greater ability to accommodate a wide range of application.
Approximately 20% faster print speed than with conventional models.

Advanced mechanical structure improves value-added print products.

High-performance inks expand the range of applications, choice of LH-100 OR LUS-120 ink, with up to 9 colours including white, clear and primer.

Mimaki's unique print-quality management enhances color representation.

Maintenance functions ensure worry-free print operation.

Sophisticated RIP "RasterLink 6" software maximizes performance included.
---

The Kebab option, "Kebab MkII" and "Kebab MkII L," enables printing on various cylindrical objects with length ranging from 300mm, in the case of "UJF-3042MkII," to maximum 600mm, in the case of "UJF-6042MkII." The option "Kebab MkII L" can also be installed on "UJF-7151 plus." Minimum and maximum diameter of cylindrical products range is from 10mm to 110mm, and it can includes wine and water bottles, seals, candles etc., making possible printing single on-demand original products.

Request a Callback

Download Datasheet

Ink for this machine

Play product video
Mimaki's range of UV inkjet printers provides unrivalled quality and versatility, opening up unlimited business opportunities for you.

---
Suggestions
You may also be interested in the following products: