Previous product
Next product

ROLAND VERSACAMM VS SERIES PRINTER
NB: Vs Series has been superseded by the VS-i Series
---
| Technical Specifications | VS-300 | VS-420 | VS-540 | VS-640 |
| --- | --- | --- | --- | --- |
| Max. Material Width | 182 to 762 mm (7.2 to 30 in.) | 182 to 1,071mm (7.2 to 42.2in.) | 210 to 1,371 mm (8.3 to 54 in.) | 210 to 1,625 mm (8.3 to 64 in.) |
| Max. Print Width | 736 mm (29 in.) | 1,046 mm (41.2 in.) | 1,346 mm (53 in.) | 1,600 mm (63 in.) |
| Ink Types | ECO-SOL MAX/3 440-cc cartridge (cyan, magenta, yellow, black, light cyan, light magenta) 220-cc Cartridge(White, Metallic) | | | |
| Ink Colours | Eight colours (cyan, magenta, yellow, black, light cyan, light magenta, Metallic and white) | | | |
| Dimensions (with stand) | 1,705 (W) x 705 (D) x 1,105 (H) mm | 2,015 (W) x 705 (D) x 1,105 (H) mm | 2,315 (W) x 705 (D) x 1,105(H) mm | 2,575 (W) x 705 (D) x1,105(H) mm |
| Weight (with stand) | 90kg (199 lbs) | 105kg (232 lbs) | 120 kg (265 lbs) | 130kg (287 lbs) |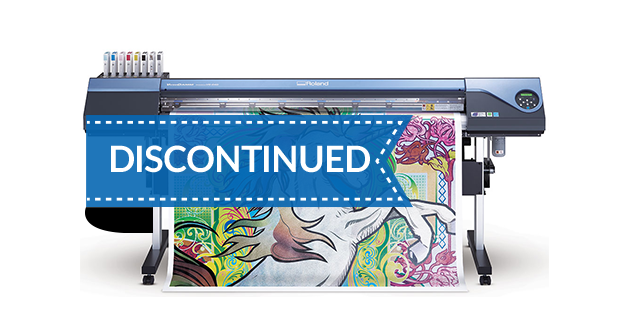 ---
The discontinued VersaCAMM range features metallic and white print options, along with the high quality and reliable technology you would expect from this best selling printer.
Metallic Colours and White ink
The metallic and white ink option sets this printer above its predecessors offering users added value and sophistication to their prints. Metallic can be printed as a spot colour or combined with CMYK to produce a wide range of metallic and pearlescent colours.
Texture system library
Roland's metallic texture system library allows for easy application of patterns and textures for added impact. Particularly effective when using metallic colours.
Roland VersaWorks
Roland's VersaWorks RIP software is renowned for its ease of use. Featuring ink usage estimation, control of up to 4 Roland devices and accurate colour matching.
OnSupport Management
With the Roland VersaCAMM customers can remotely track the status of the printer using Roland OnSupport. The system sends email updates to your pc or mobile allowing you to leave the printer unattended.
High Quality Eco-Sol Max Inks
The VersaCAMM VS series is available in 3 ink configurations including CMYK, along with light options and the metallic and silver flexibility. The VS also comes with Roland's unique automated ink circulation systems which prevents white and metallic pigments from settling. The ultimately reduces wastage and lowers running costs.
---
Suggestions
You may also be interested in the following products: