Previous product
Next product

ROLAND VERSAUV LEF-20 FLATBED PRINTER
NB: LEF-20 has been superseded by the LEF-200

---
| Technical Specification | LEF-20 |
| --- | --- |
| Technology | Piezoelectric inkjet |
| Media Dimensions | Maximum 538 (width) x 360 (length) x 100 (height) mm (21.2 x 14.2 x 3.94 in.) |
| Printing width and length | Maximum 508 (width) x 330 (length) mm x (20 x 13 in.) |
| Ink Colours | Six colours (cyan, magenta, yellow, black, white, and gloss) |
| Printing resolution (dpi) | Maximum 1440 dpi |
| Distance accuracy | Error of less than ±0.3% of distance traveled, or ±0.3 mm, whichever is greater |
| Connectivity | Ethernet (10BASE-T/100BASE-TX, automatic switching) |
| Dimensions | 1202 (width) x 962 (depth) x 549 (height) mm (47.4 x 37.9 x 21.7 in.) |
| Weight (with stand) | 110 Kg (242.5 lbs.) |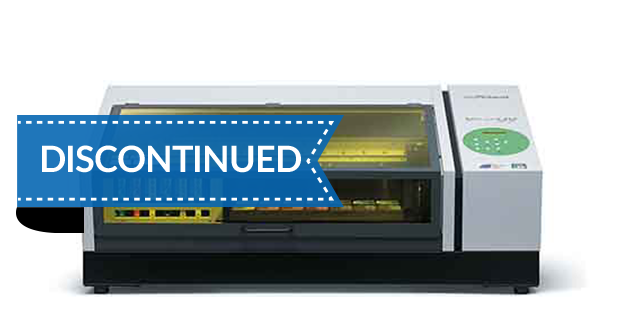 ---
**Now supported by the latest powerful Roland VersaWorks Dual RIP software**
With the LEF-20 flatbed printer, small-lot printing on demand is now easier than ever to achieve. You can print directly onto products to create personalised souvenirs, novelty goods, industrial parts, consumer electronic items and even produce packaging prototypes. To further increase your profits, the LEF-20 flatbed features a unique ink configuration that includes high-quality full-colour printing, plus white and clear inks for premium special effects.
Greater print area and productivity
The LEF-20 flatbed features a significantly expanded print area that is approximately twice that of our previous model, allowing you to print directly on objects up to 508 mm width, 330 mm length, and 100 mm in height. At 20 inches wide, the LEF-20 flatbed combines a new, more powerful UV-LED curing system, advanced ECO-UV ink, and optimised print control technology to bring greater productivity. Twenty built-in media settings are available as presets, allowing you to instantly select just the right settings for your most popular jobs.
Exceptional print quality
Because the integrated UV-LED lamp instantly cure ink during printing, the LEF-20 can print directly onto materials such as PET, ABS, polycarbonate and TPU, as well as soft materials such as leathers and fabrics. Roland Intelligent Pass Control, our advanced printing technology, enables exceptionally smooth gradations and solid colours with virtually no banding in all print modes to deliver outstanding image quality with sharp images and text.
Premium special effects
The LEF-20 flatbed comes equipped with VersaUV's proprietary clear (gloss) ink. This ink allows the LEF-20 flatbed to produce premium quality prints with gloss and matte finishes, as well as thick prints with multiple layers of clear ink. For jobs involving transparent or dark coloured materials, the LEF-20 flatbed features advanced ECO-UV high-density white ink and optimised print control technology which together yield approximately 1.4 times the opacity of our previous model.
User-friendly operation
The LEF-20 flatbed features an enclosed airtight cover to protect the operator from UV light and prevent dust from settling onto the surface of materials while printing. Also, the LEF-20's flatbed design automatically adjusts the distance between the print head and the surface of the material for optimum results.
Intuitive Roland VersaWorks print management software
The LEF-20 flatbed includes Roland VersaWorks software, which features an intuitive interface for easy operation and job management. Roland VersaWorks allows the user to choose from two print modes, generic mode for printing fine detail, and distance mode for printing on curved surfaces. Variable data printing is also available, making it easy to personalise printed objects with serial numbers and names.

Download BOFA Datasheet
---
Suggestions
You may also be interested in the following products: