Next product

ROLAND TRUEVIS SG2
The Next Step To Your Success
---
| Technical Specifications | SG2-300 | SG2-540 | SG2-640 |
| --- | --- | --- | --- |
| Max. Material Width | 762mm (30in.) | 1371mm (54in.) | 1625mm (64in.) |
| Cutting Speed | 10 to 300 mm/s (0.4 to 11.8 in./s) | 10 to 300 mm/s (0.4 to 11.8 in./s) | 10 to 300 mm/s (0.4 to 11.8 in./s) |
| Ink Types | TrueVIS TR2 ink 500cc pouch (Wh 250cc) | TrueVIS TR2 ink 500cc pouch (Wh 250cc) | TrueVIS TR2 ink 500cc pouch (Wh 250cc) |
| Ink Colours | 4 Colours (CMYK) | 4 Colours (CMYK) | 4 Colours (CMYK) |
| Dimensions w/ Stand | 2070 (W) × 730 (D) × 1310 (H) mm (81.5 x 28.8 x 51.6 in.) | 2685 (W) × 730 (D) × 1310 (H) mm (105.8 x 28.8 x 51.6 in.) | 2945 (W) × 730 (D) × 1310 (H) mm (116 x 28.8 x 51.6 in.) |
| Weight w/ Stand | 147 kg (324 lb.) | 180 kg (397 lb.) | 197 kg (434 lb.) |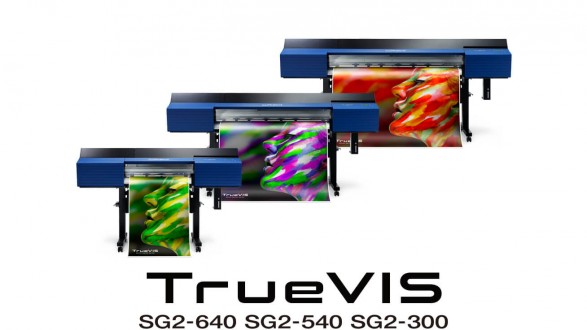 ---
The Next Step To Your Success
TrueVIS SG2 is the perfect partner for your print room, whether you are just starting out or you are looking to take your business to the next level; now available in 64", 54" & 30" widths. Intuitive to operate and equipped with a range of automated features, the SG2 delivers stunning quality graphics across a vast range of applications so you can provide your customers with exactly what they want, when they want it.
New TR2 Inks for Vibrant Colour
The TrueVIS SG2 supports new, award-winning TR2 inks. The TR2 inks have fast drying speeds which allow you to print, then laminate in as little as 6 hours for true same-day installation. The SG2 with TR2 ink is certified for long lasting results by 3MTM MCSTM Warranty, providing your customers with the assurance of the quality and reliability of their graphics. It is also certified by the Avery DennisonTM ICSTM Performance Guarantee which provides protection for up to 4 years outdoors and up to 7 years indoors³. Graphics produced with TR2 inks are GREENGUARD Gold certified to be safe when used, even in sensitive locations such as schools and hospitals.
Enhance your Business with 'True Rich Colour'
The True Rich Colour colour management pre-set takes full advantage of the SG2's superior colour reproduction capability and the wider colour gamut provided by new TR2 ink. Now vibrant colour can be combined with neutral greys, smooth gradations and natural skin tones to create stunning graphics. This pioneering print quality is unequalled for durable prints.
FlexFire Printheads
Roland DG FlexFire printheads maximise printing performance so that even the highest speed setting delivers neutral greys, vivid colours and smooth skin tones.
Highly Reliable Print & Cut Production
Automated Long-run Decal/Label Production With some other print solutions, when producing stickers, decals and labels, due to media tolerance and the length of the print job, print and cut accuracy can decrease. With the advanced cutting functionality of the SG2 you are assured consistent, high-precision accuracy, however long the print job.
Two Take-Up Modes
A new take-up unit supports two modes according to the type of media chosen, securing take-up for smooth post-processing.
Nozzle Mask Function
A nozzle masking function allows you to continue printing in the unlikely event of a nozzle being blocked.
New Media Clamp
A new media clamp allows sheet cutting without removal.

Request a Callback

Download Datasheet

Play product video
The Roland DG name is synonymous with superior digital printing equipment. Performance, reliability, service and support. Roland DG's large-format digital printer family includes a wide range of technologically advanced, yet user-friendly, colour printers and printers/cutters designed to suit the varying needs of graphics and signage professionals.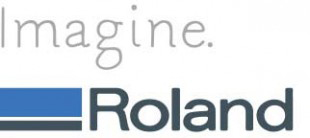 ---