Previous product
Next product

ROLAND SOLJET PRO 3 XJ SERIES PRINTER
NB: The XJ series has been superseded by the XF-640

---
| Technical Specification | XJ-640 | XJ-740 |
| --- | --- | --- |
| Technology | Piezo ink-jet method | |
| Max. Print Resolution | 1,440 dpi | |
| Max. Material Width | 210 to 1625 mm (8.3 to 64 in.) | 210 to 1879 mm (8.3 to 74 in.) |
| Max. Print Width | 1615 mm (63.6 in.) | 1869 mm (73.6 in) |
| Ink Types | Roland ECO-SOL MAX cartridge | |
| Ink Colours | Four colours (cyan, magenta, yellow and black) | |
| Ink Capacity | 220 cc or 440 cc | |
| Media Handling | Auto roll feed mechanism, auto sheet cutter, media take-up system (optional) | |
| Dimensions (with stand) | 2948 (W) x 1103 (D) x 1260 (H) mm | 3169 (W) x 1103 (D) x 1260 (H) mm |
| Weight (with stand) | 213 kg (469 lb.) | 225 kg (495 lb.) |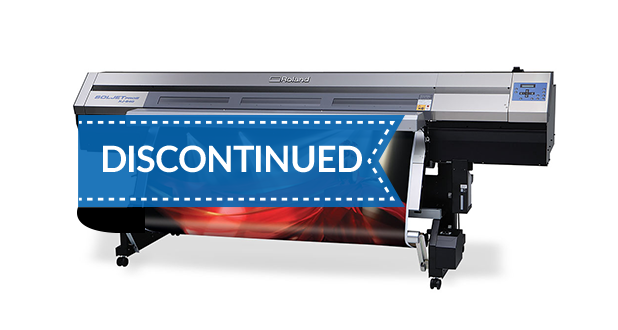 ---
Using the variable dot technology from Roland, the SolJet Pro 3 offers a maximum dpi of 1440.
The original Eco-Sol Max inks offer a great spectrum of colour options and a high print speed of 42 m²/hr for high-volume production and 15 m²/hr for detailed graphics for closer viewing.
Roland SolJet Pro 3 range has since been superceded by the SolJet Pro 4 XF-640 but can occasionally be found in second user options.
---
Roland Eco-Sol Max Inks - Highly Reliable
The Roland Eco-Sol Max inks are renowned for high levels of durability.They boast: superior scratch resistance, higher ink density, no daily printer maintenance, faster drying time, reduced production costs, expanded media support, wider colour gamut, performs with Roland RIP software and are virtually odourless.
Packaged in convenient sealed cartridges, they are easy to use and hassle free.
Eco-Sol Max ensures that your customers will come back to you time and time again. And, without the need for daily maintenance you can start to earn money as soon as you walk through your door!
6 Colour CMYKLcLm printing
The SolJet Pro 3 XJ series from Roland features 6-colour (CMYKLcLm) ink sets, which produce higher colour quality, wider gamut and tonal density for stunning images in any print mode. The printer and VersaWorks software monitor ink levels in either 220ml or 440ml cartridges. The system operates with 12 ink cartridges (2 X 6 colours) for maximum production flexibility.
Great print quality using piezo print technology
The SolJet Pro III precisely controls droplet placement in both the print head travel and paper feed directions to provide up to 1440 x 1440 dpi resolution. It uses a digital servomotor to control the media and features piezo print heads. Variable droplet technology uses micro-precise ink droplets of three different sizes depending on the type of output. This state-of-the-art technology delivers truly breathtaking output with beautifully smooth, dot-free tones even at high print speeds.
High quality print at speeds of up to 42m²/hr
The SolJet Pro III can produce 360 x 360 dpi signs, banners and POP displays at 42m²/hr. With one-inch-wide print heads that employ 360 nozzles each, the system can print large banners in minutes, enabling you to produce high volumes of quality print work efficiently – increasing your revenue and helping to grow your business.
The integrated take up roller supports up to 50Kg
The SolJet Pro III features an upgraded media feed and take-up system accommodating rolls of up to 50Kg. It really is a true production printer enabling unattended high volume printing, giving you extra time to attend to your business.
---
Suggestions
You may also be interested in the following products: