Previous product
Next product

ROLAND CAMM-1 PRO GX SERIES
Combining outstanding performance with remarkable versatility

---
| Technical Specification | 300 | 500 |
| --- | --- | --- |
| Mechanism/Driving method | Friction feed/Digital control servo motor | |
| Maximum cutting area | Width: 737 mm (29 in.) Length: 24998 mm (984-1/8 in.) | Width: 1195 mm (47 in.) Length: 24998 mm (984-1/8 in.) |
| Maximum cutting speed | During cutting: 850 mm/sec. (in all directions) During tool-up: 1202 mm/sec. (in 45 direction) | |
| Cutting speed/Brade force | 10 to 850 mm/sec. (in increments of 10 mm/sec.)/20 to 350 gf | |
| Replot memory | 2 MB (buffer size: 8 MB) | |
| Power supply/Power consumption | AC 100V to 240V ±10% 50/60Hz 1.1A/Approx. 95W | AC 100V to 240V ±10% 50/60Hz 1.2A/Approx. 100W |
| Dimensions (with stand) | 1144 (W) x 727 (D) x 1113 (H) mm | 1602 (W) x 727 (D) x 1113 (H) mm |
| Weight (with stand) | 44 kg (97 lb)55 kg (121.2 lb) | |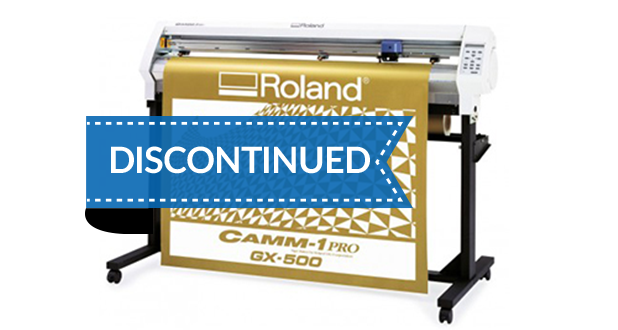 ---
The GX-300 and GX-500 vinyl cutters use digital servomotors to achieve maximum accuracy and cutting speeds up to 850m/s

From 2 to 54 inches wide, the GX-300 and GX-500 accept a wide range of materials

The GX-300 and GX-500 includes an optical registration system that automatically recognizes printer crop marks to create a powerful and cost-effective print and cut solution.
---
Professional cutting revolutionised
The CAMM-1 GX Series from Roland offers ground-breaking performance and extraordinary versatility to produce consistently high-quality graphics. You won't find a more reliable cutter on the market.
Designed for easy operation, the front panel includes buttons for frequently used settings such as blade force, cutting speed and origin point and cutting conditions for up to eight pre-set jobs can be stored, including cutting speed, blade compensation, blade force, tool movement speed during tool-up and cutting mode.
---
Suggestions
You may also be interested in the following products: