Next product

ROLAND CAMM-1 GR CUTTER SERIES
The powerful GR cutter series from Roland DG

---
Technical Specifications
GR-640
GR-540
GR-420
Mechanism/Driving method
Media-movement method / Digital control servo motor
Media-movement method / Digital control servo motor
Media-movement method / Digital control servo motor
Maximum cutting area
Width: 1,651 mm (65 in.) Length: 25 m (984 in.)
Width: 1,397 mm (55 in.) Length: 25 m (984 in.)
Width: 1,075 mm (42 in.) Length: 25 m (984 in.)
Maximum cutting speed
1,485 mm/s (High speed mode, in 45° direction
1,485 mm/s (High speed mode, in 45° direction
1,485 mm/s (High speed mode, in 45° direction
Power supply / Power consumption
AC 100 to 240 V 50/60 Hz 0.7 A / Approx. 70 W
Dimensions
2,165 mm (W) × 740 mm (D) × 1,190 mm (H)
1,910 mm (W) × 740 mm (D) × 1,190 mm (H)
1,650 mm (W) × 740 mm (D) × 1,190 mm (H)
Weight
93.5 kg
87 kg
78 kg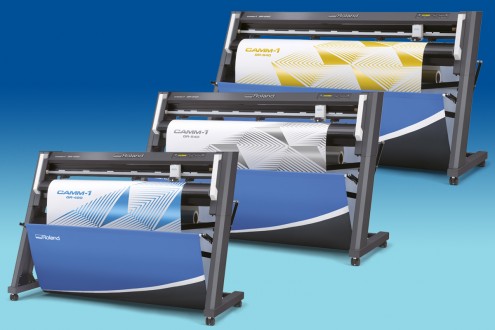 ---
Newly designed cutting carriage
LED status lamp
Digital encoder for variable blade height control
Dual position cutting carriage
Optical registation system
NEW electronic pinch rollers
NEW media basket
---
Productivity The fastest cutter in its class Delivering up to 1,485mm per second, the CAMM-1 GR cutter boasts the fastest throughput in its class. Its optimised cutting carriage drive system boosts productivity even further by minimising the vertical distance the blade has to travel and advanced weeding tools will help you keep pace with the GR's high-speed production.
Quality High-precision cutting, even in high-speed mode The GR delivers precision results, even when operating at high speed. Designed for both strength and stability, the powerful new cutting carriage and blade holder deliver up to 600g of downforce, while the new L-shaped design of the integrated stand and machine provides maximum stability to ensure an outstanding quality finish.
Versatility An unrivalled choice of media options With its impressive cutting power and variable pinch roller pressure, the GR is compatible with a huge range of media. Cut sign vinyl, reflective film, sandblast masking, window tint, flock, foil, laminated graphics and much more. Plus, cut and crease cardboard for realistic packaging prototypes. The GR is certainly up for the challenge.
Ease of use Advanced new Roland CutStudio software Designed to integrate easily into any workflow, the GR features both USB and Ethernet connectivity and runs from a wide range of software packages. Not only that, included with the GR series is the newly upgraded Roland CutStudio software which makes it quicker and easier than ever to create and edit cutting data.
---
Suggestions
You may also be interested in the following products: