Previous product
Next product

MIMAKI UJV55-320
High performance grand format LED UV inkjet printer

---
| Technical Specifications | UJV55 - 320 |
| --- | --- |
| Max. Print width | 3,200 mm |
| Print Resolution | 300 dpi, 600 dpi, 900 dpi, 1,200 dpi |
| Ink Type | UV curable ink: LUS-120 1 litre bottles (C,M,Y,K or C,M,Y,K,Lc,Lm,Wh) |
| Media Size | 3,250mm (Twin rolls printing with a small drive shaft; 1,524mm x 2) |
| Dimensions (w x d x h) | 5,410 x 995 x 1,440 mm |
| Weight (max.) | 910 kg |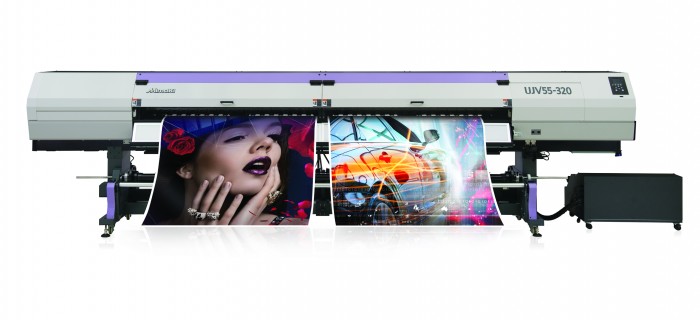 ---
Using Mimaki UV curing inks, resulting in a smooth but vibrant print
Super wide printing (Up to 3.2M)
High speed printing, up to 110m2/hr
Newly developed LUS-120 high performance UV curing ink including white
High density print mode for front/backlit applications
Inline LED Lightbox for backlit print inspection
MAPS,MFD1,NCU & NRS for optimal print quality & performance
Simultaneous twin-roll print facility
Media roll weights up to 100kg
1200 DPI max.resolution
3 litre ink tanks
Mimaki Raster Link 6 RIP software included as standard.

---

The all new Mimaki UJV55-320 grand format LED UV inkjet printer delivers a unique combination of high quality super wide output for volume production of banners, retail, exhibition, and window graphics and other similar applications up to 3.2m wide with added versatility of twin-roll simultaneous printing.

The UJV55-320 showcases new developments to offer improved performance for backlit printing applications, the white ink enhancements offer printing onto transparent media with the application of white ink as an under or over layer. In addition to this, the inline LED lightbox allows for proofing while printing by illuminating printed media just after printing, ensuring quality whilst saving time, ink and media. The thickness of the ink layer printed also lends itself to superior backlit printing by enabling a much greater blockout performance than other printing methods, this enhances the illuminated colour performance and vibrancy.

Request a Callback

Download Datasheet

Ink for this machine

Media for this machine

Play product video
Mimaki's range of UV inkjet printers provides unrivalled quality and versatility, opening up unlimited business opportunities for you.

---
Suggestions
You may also be interested in the following products: