Previous product
Next product

MIMAKI CJV30
NB: The CJV30 has been superseded by the CJV-150

---
| Technical Specifications | CJV30-60 | CJV30-100 | CJV30-130 | CJV30-160 |
| --- | --- | --- | --- | --- |
| Max. Media width | 620 mm | 1030 mm | 1371 mm | 1620 mm |
| Print Resolution | 540 dpi, 720 dpi, 1440 dpi | | | |
| Maximum cutting speed | 30 cm:11.8"/s (42 cm:16.5"/s at the angle of 45º) | | | |
| Cutting force | 10-350g | | | |
| Interface | USB 2.0 | | | |
| Dimensions (w x d x h) | 1534 x 739 x 1424 mm | 1934 x 739 x 1424 mm | 2269 x 739 x 1424 mm | 2538 x 739 x 1424 mm |
| Weight (max.) | 110 kg (242 Ibs.) | 130 kg (286 Ibs.) | 145 kg (319 Ibs.) | 160 kg (352 Ibs.) |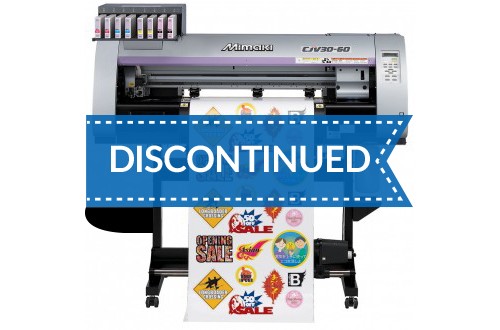 ---
Fully automated workflow - printing and cutting simultaneously with no user involvement required
A varied choice of inks including the unique ability to print metallic and white with options in both eco or low solvent
Maximum print speed of 17.5m²/hr

The Mimaki ES3 inks offer ultra low odour printing, alternatively the best-selling SS21 inks offer greater vibrancy, increased durability and a huge variety of substance applications
The die cut feature on the CJV30 offers stickers and labels with a contour cut backing liner

---

The Mimaki CJV30 large format print and cut device is an award winning, dual purpose solution offering the same high quality you could expect from any Mimaki. It is delivered as standard with 2 years fully comprehensive Gold standard warranty, a full set of 8 inks, a take-up unit for ease of use and a software bundle including Mimaki Rasterlink, PostScript RIP and FineCut.

The smallest in this fleet, the CJV30-60 is the ideal choice for start-up businesses looking for a low level investment whilst achieving high levels of output. It is a fantastic opportunity for home users to take the next step in large format printing and a great addition to print rooms that are looking to increase their solvent print work.

The 100 & 130 machines deliver a supremely versatile midsize machine and the CJV30-160 enables sign and graphics companies to produce 1.6m wide, high quality prints onto almost any display material - banner, canvas, paper, self adhesive vinyl, vehicle wrap, backlit, garment marking film and much, much more.

Request a Callback

Download Datasheet

Ink for this machine

Media for this machine

Play product video
Please find below Mimaki's printers and cutters archive with all older products which have been superseded by new and improved models.

---
Suggestions
You may also be interested in the following products: