Previous product
Next product

MIMAKI JFX200-2531 FLATBED
Expanding Mimaki's family of LED UV flatbed printers
---
| Technical Specifications | JFX200-2531 |
| --- | --- |
| Print Resolution | |
| Ink Type | UV curable ink: LH-100, LUS-120, LUS-150, LUS-200, LUS-350 |
| Interface | USB 2.0 |
| Dimensions (w x d x h) | 4,400 mm × 4,290 mm × 1,250 mm |
| Weight (max.) | Approx. 1,000 kg |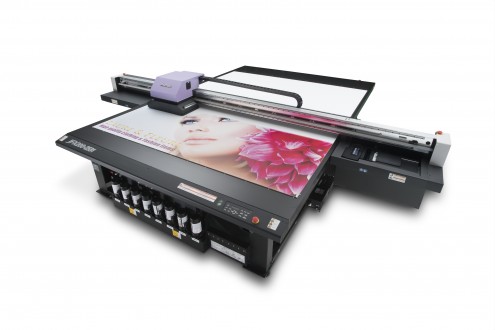 ---
Larger printing area compared to JFX200-2513 entry level machine enables printing up to 2.5 m × 3.1 m size

New toggle print feature increases productivity-allows simultaneous printing / loading & unloading of media
Excellent usability

The Mimaki Advanced Pass System (MAPS) reduces banding significantly
Same reliable printing technique of the current model along with versatile capabilities for handling a wide range of applications
Highly productive print speeds up to 25m2/h and 12.5m2/h with simultaneous white ink printing
Layout pins simplifying the process of aligning media
High performance Rasterlink RIP softwar
Up to 6 colour + WHITE / PRIMER / CLEAR

---



The JFX 200 Series of flatbeds maximizes your productivity by providing the flexibility and ease of use.
There is a wide selection of ink choices available to offer a great variety of creative application possibilities. Printing white and clear and an endless potential of substratess, the JFX200-2531 flatbed printer is easy to use and maximising productivity with a larger bed space than the the JFX200-2513, measuring 2.5m x 3.1m.
There are many benefits of using the unique and revolutionary LED UV curing technology over alternative solutions.

The primary benefits are below but please get in touch for a full understanding of the wonders of LED UV curing.

- Ultra low power consumption: cheaper to run

- The ability to print to all media types: No need for concerning whether the media may be heat affected

- Instant on/off switch for the lamps: the lamps offer a huge life span meaning less need for replacement

Request a Callback

Download Datasheet

Ink for this machine
Mimaki's range of UV inkjet printers provides unrivalled quality and versatility, opening up unlimited business opportunities for you.

---
Suggestions
You may also be interested in the following products: