Next product

TRIMFAST GENERAL PURPOSE CUTTER
The Trimfast General Purpose Cutter is designed to be easy to use and made to last. With its strong and stable base, its ideal for any workplace

---
Technical Specification
TFGPC-60
TFGPC-100
TFGPC-150
TFGPC-200
TFGPC-250
TFGPC-300
Size
60
100
150
200
250
300
Cutter Size (mm/inches)
600/24
1000/40
1500/60
2000/80
2500/100
3000/120
Overall Dimensions (mm)
755x280
1155x280
1655x280
2155x280
2655x280
3144x280
Warranty
1 year
1 year
1 year
1 year
1 year
1 year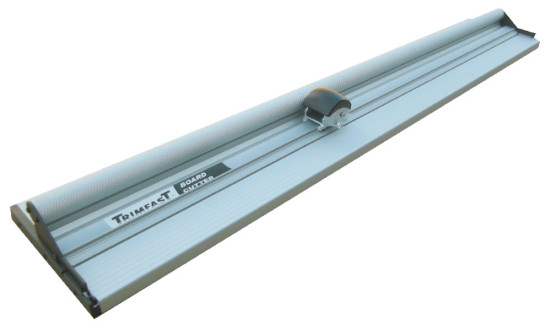 ---
Design and Performance

The Trimfast General Purpose Cutter is available in six different sizes. Each with a strong and stable design, the cutter is made to last. The anodised aluminium base allows the cutter to be sturdy and hardwearing, the base has a narrow groove that directs the blade tip throughout cutting, providing safety and accuracy whilst using the device. Featuring a hinge and lift arm assembly, this allows the cutter to be used on larger materials than itself.

The cutter is available in six standard sizes from 60cm (24") to 300cm (120"), it also includes blade magazines for standard utility and scoring blades, as well as a 45mm (1 3/4") textile cutting wheel and holder.

Portable and ready to go cutter, no accessories required. Ideal as a table top cutter or can be mounted on an optional stand.
KEY FEATURES
• Strong & stable design
• Hinge and lift, allowing larger materials to be cut
• Available in 6 sizes

GREAT FOR USE IN
• In-plant print departments
• Colleges & Schools
• Printers
• Reprographics
• Copyshops

IDEAL FOR CUTTING
• Encapsulation film
• Pressure sensitive laminate
• Foam centred board
• Rigid PVC
• Pop up material
• Staufen
• Card
---
Suggestions
You may also be interested in the following products: