Next product

ROLAND TEXART XT-640 PRINTER
Strength & Style, offering powerful sublimation printing
---
Technical Specifications
XT-640
Technology
Piezoelectric inkjet
Max. Print Resolution
Maximum 1,440 dpi
Max. Material Width
259 to 1625 mm (10.2 to 64 in.)
Max. Print Width
1615 mm (63.6 in.)
Ink Types
Roland exclusive Texart sublimation ink pouch
Ink Colours
Four colours (cyan, magenta, yellow and black)
Eight colours (cyan, magenta, yellow, black, light cyan, light magenta, orange and violet)
Ink Capacity
1000cc
Interface
Ethernet (10BASE-T/100BASE-TX, automatic switching)
Dimensions (with stand)
2,835 mm (W) x 830 mm (D) x 1,650 mm (H) (111.7 (W) x 32.7 (D) x 65 (H) in.)
Weight (with stand)
214kg (471.8 lb.)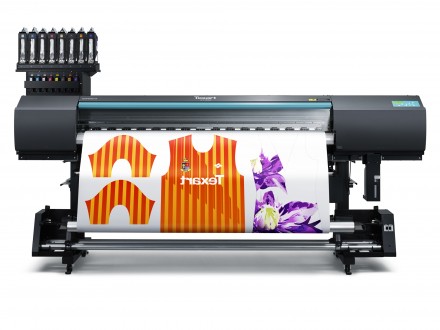 ---
64" wide sublimation printer
Maximum print speeds of 63m²/h, almost twice that of it's predecessor
Using Roland's newly developed Texart ink including brand new Orange and Violet configurations, delivery bold and intense colours consistently
Available in 4-colour (dual CMYK) or 8 colour (CMYKLcLmOrVi) ink configurations
The Roland pouch inks ensures consistency in colours with 1litre airtight ink pouches
Unattended printing enabled thanks to Roland's ink switching system on the 4 colour configuration option
The innovative feed adjuster prevents skewing by providing even tensioning while printing
Unique take-up system allows for hassle-free unattended printing and is included within the price
---
The Roland Texart XT-640 printer has been designed solely for the use of dye sublimation. Having a chassis, print head and inks that have been developed for this purpose alone, it consistently offers vibrancy and quality that you'd expect from any Roland printer. This adds a new layer of opportunities to any print room, offering printed apparel, soft signage, promotional items and much more at a speed and level of quality that would simply set you apart from the competition.
The XT-640 is available with the option of dual CMYK or the 8-colour configuration incorporating Orange and Violet. This newly developed ink offers a wide colour gamut ensuring consistent bold and vibrant output with incredibly fine detail. There has been a significant amount of R&D into the Black ink, making it stronger than ever to offer depth and dense printing.
Using the dual CMYK configuration, the XT-640 would use Roland's Ink Switching System allowing for unattended continuous printing by automatically switching to the second ink pouch non each colour. The empty pouch can also be replaced without stopping in both colour configurations.
You also have a choice of two professional RIPs: ErgoSoft Roland Edition, which boasts a full range of textile-specific features and has a well-deserved reputation for quality in the textile printing industry.

Request a Callback
Download Datasheet
ROLAND'S MOST SUCCESSFUL
AUTHORISED DEALER FOR THREE CONSECUTIVE YEARS

As an Authorised Dealer, printMAX is committed to delivering Roland printers with high quality after-sales support and service to ensure clients are able to get the best return on investment for their business.

---