Previous product
Next product

MIMAKI UJV500-160
A new generation of high speed LED UV inkjet printing

---
| Technical Specifications | UJV500 - 160 |
| --- | --- |
| Max. Print width | 297 mm - 1,610 mm |
| Print Resolution | 300 dpi, 600 dpi, 900 dpi, 1,200 dpi |
| Ink Type | UV curable ink: LUS-150 (C,M,Y,K,W) LUS-200 (C,M,Y,K,W) |
| Media Size | 1,620 mm or less |
| Media heater | 3-way intelligent heater (Pre/Print/After) |
| Interface | USB 2.0 |
| Dimensions (w x d x h) | 3,852 x 1,977 x 1,690 mm |
| Weight (max.) | 800 kg |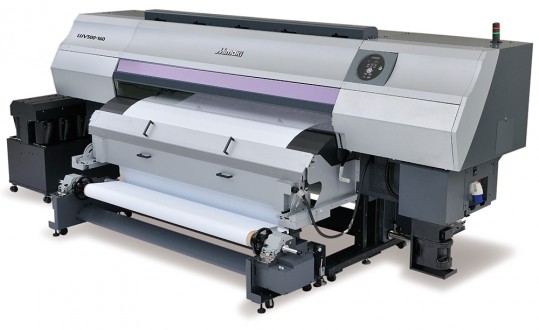 ---
Using Mimaki UV curing inks, resulting in a smooth but vibrant print
The UV curing means fast drying inks, ultimately improving productivity and reducing downtime.
The durability of the UV inks allows for longevity of use for both internal and external applications.
The ink configuration is a standard 4 colour set up but allows for the addition of white when using the LUS-150 ink option.
High productivity rates with print speeds of up to 60m².
A new and improved take-up system allows for continuous unattending printing.
The UV curing allow prints to completely dry on exit resulting in the ability for immediate finishing.
Reduced banding on solid prints thanks to the unique Mimaki Advanced Pass System (MAPS).
Enhanced ability for continuous operation due to the Mimaki Nozzle Recovery Function.
Mimaki Raster Link 6 RIP software included as standard.

---

The Mimaki UJV500-160 brings in a new era of high speed LED UV printing, combining remarkable quality and high-speeds.

It is available with 2wo different ink options (LUS-150 and LUS-200) allowing greater flexibility and variety in creativity and application choice. The LUS-200 ink is superior with regards to outdoor durability and the flexibility and stretch in inks which can be hugely beneficial when applying onto curved surfaces such as vehicle contours. The greatest advantage of using the LUS-150 ink is the added option of printing white which can add merit when printing onto transparent or coloured substrates along with enhancing CMYK.

Request a Callback
Download Datasheet
Ink for this machine

Media for this machine

Play product video

---
Suggestions
You may also be interested in the following products: