Previous product
Next product

MIMAKI UJV-160RR
Precision roll-to-roll LED UV printer

---
| Technical Specifications | UJV-160RR |
| --- | --- |
| Print head | On-demand Piezo head |
| Ink type | UV-curable fl exible ink (5 colour: C, M, Y, K, W) |
| Media width | 1,620 mm (63.7") |
| Media weight | Rigid: less than 12 kg (26.5 lbs.) |
| Interface | USB 2.0 |
| Dimensions (w x d x h) | 3300 mm x 780 mm x 1290 mm (129.9" x 19.8" x 50.7") |
| Weight (max.) | 260 kg (573 lbs) |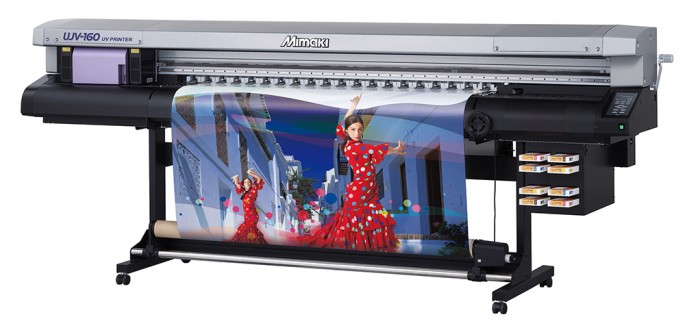 ---
The UJV-160RR offers LED UV curing inks on roll to roll media, an innovative and unique large format print solution.
The LED-UV nature means there are no drying times, allowing finishing simultaneously. Maximising output and production times.
Thanks to the nature of LED UV curing, there are no high temperatures meaning reduced risk for heat affected issues on sensitive substrates.
The flexible UV inks stretch with the media, reducing ink cracking
The LED UV lamps are the most environmentally friendly solution for large format printing due to the life span and reduced heat emissions.
1.6m print width, powered take up unit included.
Mimaki UJV-160 is also available with front and rear tables included to print to rigid media.

---

This award winning, 'all in one' solutions offers high end features from Mimaki and is delivered with standard, with a comprehensive Gold warranty for added peace of mind. The Mimaki UJV-160RR is available with a white ink option and a 8 - 10m² / hr production speed.
---
Suggestions
You may also be interested in the following products: